Decisions, decisions, decisions… Choices do not stop just after receiving your O Level/end-of-year results! Which JCs should I choose? What JC subject combination should I take? For those who are lost, here is a guide for your JC Subject Combination, and a breakdown of whether Econs is a good choice for you.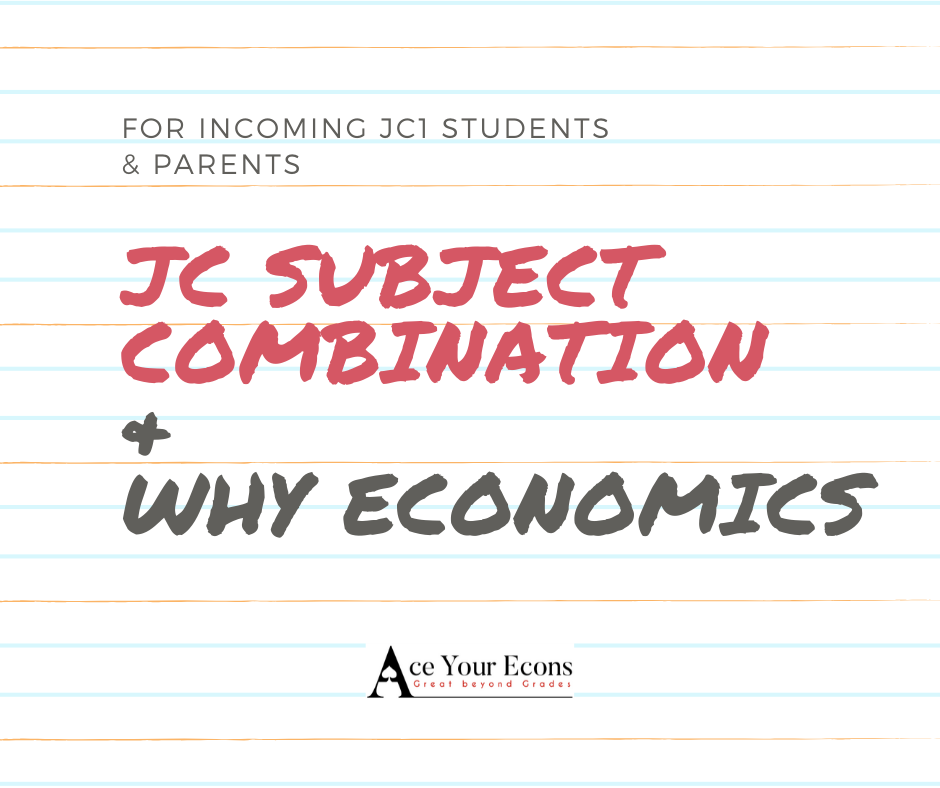 General JC Subject Combinations

Subjects in JC are generally broken down into two categories – the ​arts​ (History, Geography, Literature, Economics, etc.) and ​science​ subjects (Chemistry, Biology, Physics, Mathematics, etc.). A full list of GCE A Level subjects can be found here.
In terms of JC subject combinations, they can be split into three big groups – Science, Arts and Hybrid (on top of the compulsory General Paper and Project Work for most of you!).
Science​ students: Without going into the details, you are most likely required to choose three Science subjects and a contrasting Arts subject.
Arts​ students: As with the Science students, you would have to take up three arts subjects and Mathematics as your contrasting subject.
​Hybrid​ students: Your choices would be an equal mix of science and arts subjects, meaning two science and two arts subjects.
With a rough gauge of your likes, dislikes and learning styles, you most probably would have an idea of which JC Subject Combination stream you are more inclined to choose. So, considering that we specialise in Economics…
Should I include Economics in my JC Subject Combination?
Economics may seem like a daunting subject. After all, you have had almost no exposure to it as compared to its History, Geography and Literature counterparts. That being said, while it may be categorised as a humanities subject, it is actually more similar to the Sciences than you would think!
JC Economics can get pretty technical as the markers are often looking out for key technical terms in your papers. Since the Sciences often involve you memorising certain keywords alongside specific answering techniques, you start to see the similarities between the two. However, you do still need to evaluate and make judgments, and this is where the "humanities" aspect of the subject comes into play. Therefore, considering the above elements of Economics, it might not be as scary as it seems. If tackled correctly, you will be able to excel in it!
Of the many humanities subjects available, why should you pick Economics? While there is a technical aspect to Economics, there is also an evaluative aspect to it. Content application and critical thinking skills are essential in Economics. For most questions, you would also be required to come up with a nuanced conclusion. Economics helps you understand what is currently happening in markets today; This is a subject that could be right up your alley!
For you, Economics is the perfect blend of both the sciences and the arts. With both technical and critical thinking aspects involved, Economics provides well-rounded development of these skills, which aligns with your hybrid JC subject combination.
We understand that parents' opinions usually play a part in your child's JC Subject Combination decision. So we hope to empower you to better aid your child this process. There will be an inevitable struggle in the beginning for your child embarking on JC Economics. This is due to the steep learning curve and the different environment in JC. Granted, it is ​tough to see your child struggling​, but Economics can potentially be beneficial for them in the future.
Economics allows students to understand the workings of different markets on the national and global scale. Students hone their critical thinking skills and are exposed to real-world systems. We assure you that studying Economics will equip your child with relevant skills that can be applied in their future.
At Ace Your Econs, we feel that passion and interest ultimately come first. If your child has a natural inclination towards some subjects, it is probably best if they took them for their JC Subject Combination. If it seems they do not particularly have interest in any subject, Economics is definitely a good choice to consider.
With the various perspectives of Economics,
What Exactly Do I Learn in JC Economics?
To briefly summarise, JC Economics consists of micro and macro aspects.
Microeconomics​ involves the learning of how a market works. From supply and demand to why prices fluctuate, you get to understand why certain sellers price their goods differently.
Macroeconomics​ involves the learning of how the economy works. You will understand how the economies of the world are all interconnected. For example, in light of the recent US-China, Economics will help you realise how Singapore too is affected.
For a more thorough breakdown of what to expect in Economics, visit ​this link​.
Hence, given that Economics allows you to be more in touch with the world, learning Economics can be pretty fun! If you find yourself struggling to enjoy Economics, you could try to find out your learning style and suit it to studying Economics.
With the Central Problem of Economics in mind, choices result in decisions to be made. So, have you made up you mind in choosing your JC subject combination?