JC Economics Tuition -
Rise Above Your Cohort
And Ace Your A Levels Now
The lack of practices and homework in school leads to your child feeling UNCERTAIN on how he/she will fare in Econs.
Your child is suffering from a LACK OF CONFIDENCE due to repeated failures since J1 Promos and don't know what to do despite "burning midnight oils"
Your child is extremely overwhelmed with course material from school in both micro and macro economics and don't know where to start.
Most J2s struggle with these too. Your child is not alone… 
BUT THERE IS A WAY TO RISE ABOVE THE COHORT FOR A LEVELS.
AND WE ARE HERE TO PUSH YOUR CHILD HARDER WITH OUR JC ECONOMICS TUITION.
Here's what our fellow parents & Students have to say
Open, friendly and approachable
Annette Loke
HCI
Work Hard and Listen to Mr Teo!
Bryan Hong
HCI
Put your trust in Mr Teo
Emily's Testimonial (Mother of Erin Lee)
Meet your Child's Head coach for JC Economics Tuition
Mr. Jeffrey Teo is the Head Coach & Founder of Ace Your Econs (AYE), renowned best-selling author of 2 Economics Guidebooks. He has been featured prominently on local media across all major media platforms. Mr. Teo has been lecturing A Levels Economics for over 10 years. He was a Senior Corporate Banker in two foreign banks before starting his own Econs Coaching Centre – Ace Your Econs (AYE). Drawing from his wealth of experience in his previous career, his interactions with the Monetary Authority of Singapore (MAS) has provided him with great insights on how Macroeconomics and Macro Policies are conducted in Singapore. This makes him an attractive and ideal Econs coach due to his previous role as practitioner and current one as a teacher. To date, more than 90% of Mr. Teo's students have experienced a significant boost in confidence for Econs within the first 3 months.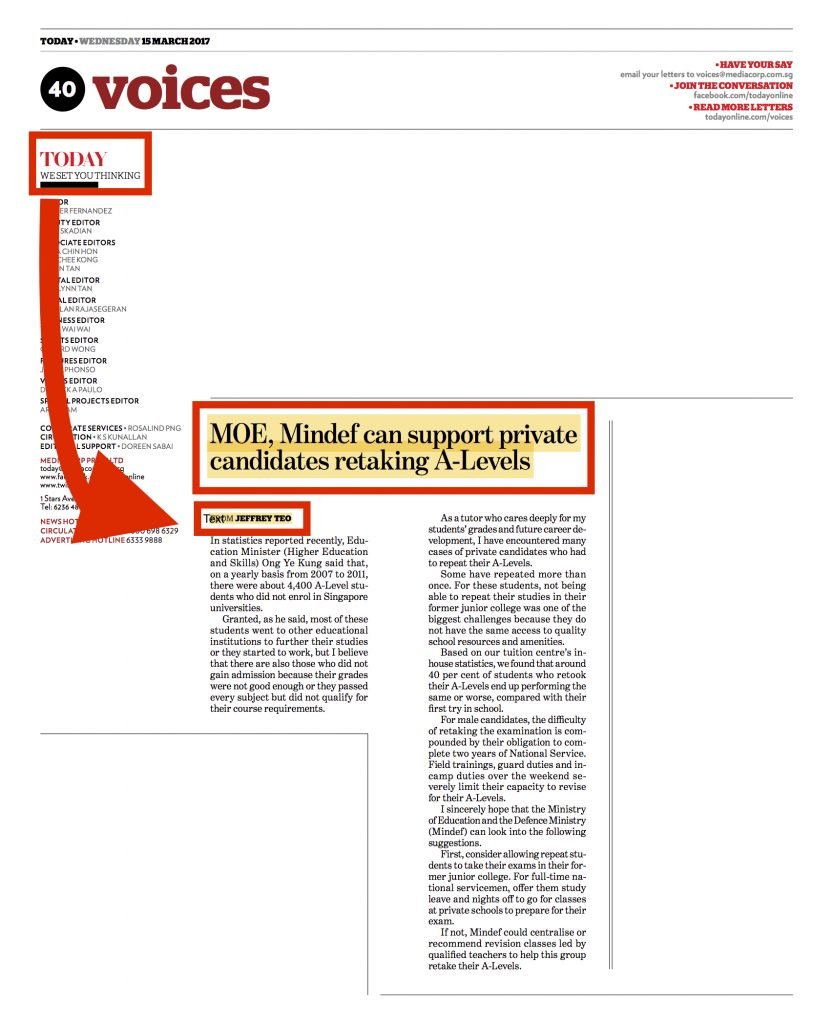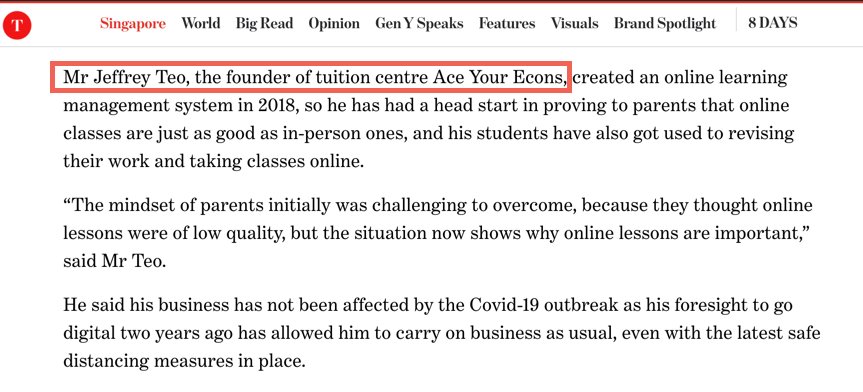 Media Feature on Parent Asia Guide: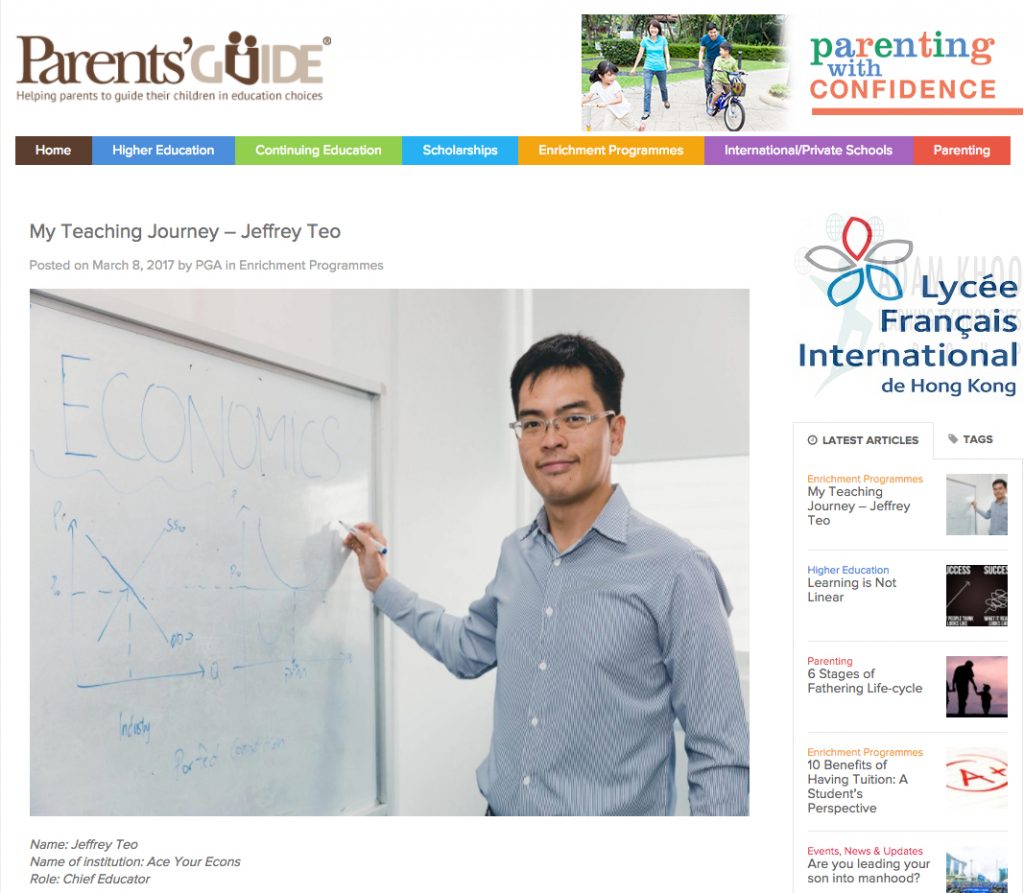 Best selling author of two guidebooks: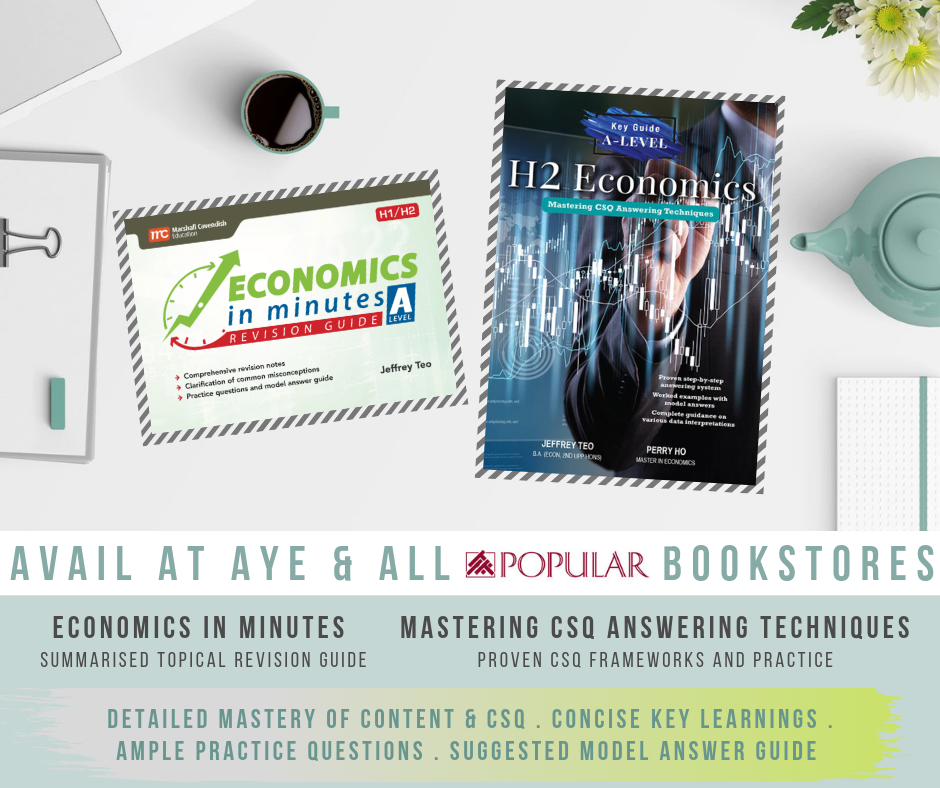 About our JC Economics tuition Online Group Schedule 2022

Here's what your child will be getting from our JC Economics Tuition with our 5 most:
1. Most Trusted JC Econs Online Tuition Centre
Learn from the
most trusted
JC Economics online tuition centre in Singapore. Enjoy the best online learning experience without the need of leaving your doorstep.
2. Most Demanding and Rigorous Economics Tuition
Your child will be pushed extremely hard to score an A in our JC Economics Tuition programme by Mr Jeffrey Teo with intensive hands-on practices and guided feedbacks every week. There will also be a monthly lecture test to get your child "exam-ready" and prepare him/her for A Levels. You have our word that this is the most demanding tuition centre you will ever find.
3. Most Structured Approach - 'ACE' Framework
Your child will realise his/her fullest potential under our proprietary ACE system specifically designed to tackle and structure essays (for H2 students) and CSQs! This system is steered towards helping J2 Econs students nurture their application and higher order thinking skills.
4. Most Organised Digital Solution
Instant access to a one-stop digital solution containing interactive video teachings, as well as ten years' worth of essay and CSQ practices. We also provide in-depth video analyses for those questions to prepare your child for the A levels.
5. Most Student Centric Tuition Centre
Say no more to ineffective mass lecture-style classes. In our online classes, to ensure your child gets the maximum attention, we limit our intake to 8 students per session. We also adopt breakout rooms so that our students can ask questions privately without the fear of being judged during the online group sessions.
However in full view of transparency, our JC Economics Tuition programme is not suitable for these 3 profiles of parents & students:

Your investment Choice today:
Monthly Group Programme
For J2 students

who want

extra practice




and are looking to

stay ahead of




the

bell curve
$
480

Every monthly 4 lessons includes:
Weekly group classes, practices & homework

Month end lecture test with detailed feedbacks to ensure consistent exam performance towards A-Levels exam

Access to our exclusive Learning Management System with a full library of recorded video lectures, self practices and video analysis of essays and case studies

Optional - join our J1 classes and enjoy a 1-1 consult with Mr Teo every month at an additional $240 (U.P: $780)























Annual Group Programme
For committed J2s who suffer significant backlog of catchup work and are looking for significant annual cost savings
$
5,965

One time annual investment includes:
Weekly group classes, practices & homework

Month end lecture test with detailed feedbacks to ensure consistent exam performance towards A-Levels exam

Access to our exclusive Learning Management System with a full library of recorded video lectures, self practices and video analysis of essays and case studies

Unlimited flexi 1 to 1 consults

with Mr Jeffrey Teo to personally "hand-hold" you through this crucial year of reattempting and customise a revision plan for you. Any lessons missed previously would be made up for free on 1 to 1 basis. (U.P: $6,000)

Retake for free if you do not score an 'A' for A Levels (U.P: $5,965)

Join all our J1 classes to rebuild your micro foundation (U.P: $3,720)

4x Full Mock Exams with in-depth grading and 1-1 personalised feedback to prepare yourself for A levels. (U.P: $3,000)

2x in person case study and essay workshops to be held during school holidays (U.P: $1,000)

Flexi 1 to 1 Programme
For busy J2 students
who require flexibility & personal attention of
Mr Teo
$
1,200

Every monthly 4 lessons includes:
Weekly flexi classes, practices & homework

Access to our exclusive Learning Management System with a full library of recorded video lectures, self practices and video analysis of essays and case studies































* Additional one month deposit is required for monthly group programme and flexi 1 to 1.
* J1 micro classes schedule can be found here.
All fees exclude an annual course material fee of $50 and a one time registration fee of $50.
Are you ready to be pushed beyond your limits to score an 'A' this year?
Can I join any of the groups if I'm a H1 student?
A: Our classes are 100% tailored to cater for both H2 and H1 students. H1 students will not be practicing any H2 essays nor learning unnecessary H2 topics.
Will there be face to face classes?
With the exception of quarterly mock exams and workshops, all classes will be conducted online. 
What is the difference between flexi 1-1 Classes & Group Programme?
Flexi 1-1 classes are highly customised & intensive sessions for students who require the undivided attention of our lead economics tutor, Mr Jeffrey Teo. Students under the annual group programme will also enjoy unlimited flexi 1-1 sessions.
How is your online class different from the rest of centres?
We do not practise having concurrent online and physical classes as we believe it dilutes the learning experience for those attending the class online. Our online only approach ensures that the 8 participants get maximum attention. To ensure that our students learn from their mistakes, we constantly recap the content and pride ourselves in our intensity of the sessions. Every class would contain at least one timed practice, alongside a mandatory homework submission.
How big is your online group size?
We understand that online poses a different set of challenges as compared to center based learning. Thus we impose a maximum intake of 8 students per online class to promote maximum interaction and engagement via Zoom.
How do I submit my timed practices and homework even if I'm attending an online class?
Everything from video lectures and worksheets can be obtained & submitted digitally through our one-stop learning management system.
Are there presentations in the group class?
No presentations are required on your side. However, Mr Teo will pose questions to promote in-class interaction. 
Will there be make-up classes if I miss class due to poor health?
If there is an alternative online class within the same week, you may inform us prior to switching to the class. Alternatively, every online class will be recorded and uploaded onto our learning management system for your review. Lastly, students under the annual investment may also request for a complimentary 1-1 make up lesson.
Can I arrange for a trial class?
Yes, a paid trial is available upon request, subjected to availability.