Dear J1 students,
You have just ended your "honey-moon" period of year one orientation and reality starts to kick in hard when you realise that the difference between JC and Secondary school is insane. Accompanied with a new and demanding CCA and new exam formats of essay and CSQ to handle, you realise that your J1 Econs revision is in a total mess. And if you aren't sure what the proper definition of mess is, here is how we break down for you:
Constantly falling asleep in your lecture theatres because you "catch no ball" of  Econs?
You've been too involved in your CCA commitments and simply have no time to revise;
You dread looking through your lecture notes which are as thick as a dictionary and they never fail to drive you to sleep;
You've tried hard before to revise and even tried to memorise model essays. But as it turns out, you still keep scoring "Us" and have given up on revising anymore;
You are perfectly strong in content and have no problems understanding the concepts covered in school. However whenever it comes to the exams, you "somehow" misinterpret the question or don't really know what the exact answering requirements are, resulting in long thinking processes, inability to finish your paper & answering out of point.
Your school's Econs tutor is clearly dreadful in his/her teaching and you've given up all hopes trying to schedule any personal consultation with him/her.  
You often misplan your essays and when you realise you are writing out of point, you trash the existing one, resulting in very little time to complete your paper.
If you fall into the any of these 7 categories, welcome to the total mess club and if this is left unchecked, you might be heading to disaster for your promotional exams.
And what happens if you flop your Promotional exams?
1. Say goodbye to any scholarship application as the process is extremely competitive.
H3 applications (to parents: the older equivalent term of H3 subject would be 'S' paper)  start as early at the end of Promos and there are two important criteria to be accepted to an H3 application:
Teacher's recommendation
Strong overall grades in all H2s
As you have no direct influence over teacher's recommendation, your next best bet is to obtain overall good grade to secure your H3 subject. And what has securing an H3 got to do with scholarship application?
With an H3 in hand, your scholarship application to various boards like PSC will have a competitive edge over those without H3 when you're in year 2. Some people will be telling you: "H3 doesn't matter la. At the end of the day, performing for the interview is more important." And here's the catch: Imagine yourself as an interviewer who has one thousand applicants for the scholarship. How are you going to prioritise who gets interviewed with the scarce amount of time and resources? Your H3 is your golden ticket to your scholarship interview!
The key to securing an H3, as mentioned earlier, is to secure good overall grades, especially H2 Econs!
2. You will be forced to "downsize" one of your favourite H2 subjects to H1.
If you are taking 4 H2s, a poor Promos will not necessarily lead to retaining (refer to point 3 below) but you will have to make a choice to drop one of your 4 H2s to a H1 subject.
And truth to be told, this is going to be an extremely tough choice. In some schools, some subjects are not offered as H1 (due to insufficient demand) and students are 'prescribed' a certain set of combinations when you start off in Year 1. As such when you have to drop 1 of the H2s, you will face the dilemma of having no choice but to drop your favourite subject to H1 as the others may not be offered as H1.
And if you have future intentions to apply for scholarships (Refer to point 1 above), your priority of scholarship applications would be lower:  H3 > 4H2s > 3H2s. The reasoning of why 4H2s > 3H2s in terms of scholarship opportunities is exactly the same as mentioned above in point 1 (Singapore is ultimately a 'paper chase' society).
3. You are in real danger of repeating your J1 if you fail your Econs. One full year of repeating alone while your good pals proceed to J2.
According to MOE statistics in 2012, the highest retention rate among all JCs is 15%:
Every 3 out of 20 students will have to retain in their first year due to unsatisfactory promotional criteria. And the point we are trying to drive across is statistically, it is not that tough to be retained.
And if you did not start off with 4 H2s, your risk of being retained is compounded. This is because your friends with 4 H2s are equipped with a 'bullet vest' to drop 1 H2 when necessary, but you can't drop anything more.
In our programme, we have coached many retained students before and the real challenge of retaining is the emotional challenge in the following 2 years down the road (assuming you still graduate in 2 years time after retaining):
Having to part with good friends you have made in your previous J1 class and not being able to graduate together
Having to adapt a new environment with the new J1 batch
Lagging behind by 1 full year.
So what if we tell you it is still possible to start rebuilding your long lost confidence for Econs & score an 'A' in your upcoming Promos?
With our well structured JC1 Economics Tuition Programme, you can look forward to:
1.Learn from one of the most trusted JC Economics Tuition Centre – We are thankful to be trusted and reviewed by many of your A-level seniors/peers. 🙂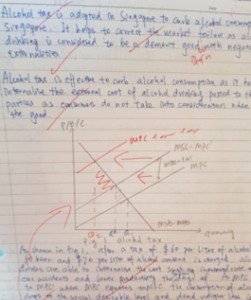 2. Weekly timed trials – AYE's JC1 Economics Tuition is most known for our weekly timed trials with precise marked feedback provided. 99% of other school teachers and learning centres avoid giving practices because it is extremely time-consuming to mark. However in AYE, your growth is our sole focus and it can only be reliably tracked with marked practices.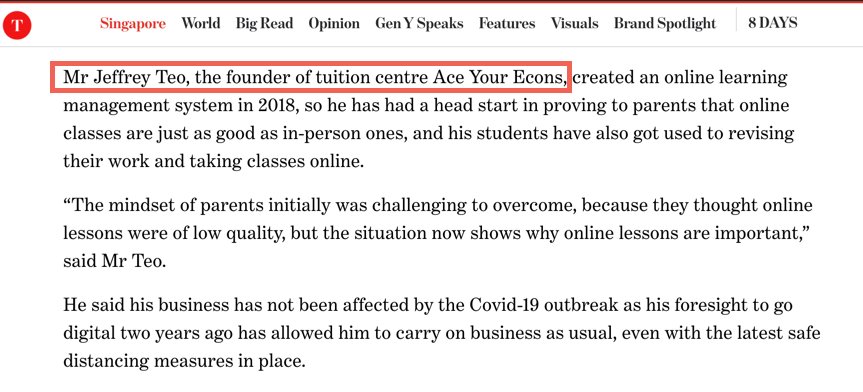 3. Featured Online Tuition Provider – As one of the online pioneers, we have been interviewed & featured in Today.
4. Gaining exclusive access to a proven '4 Step ACE methodology' for structuring and answering tough Econs essays and case studies. Most students have problems with this and therefore, get their marks pulled down. Thankfully, in our JC1 Economics Tuition programme, we've  "cracked the code" and pinpointed the exact steps you need to score well for essays and case studies.
5. Assured confidence – 96% of AYE's candidates reflected a significant boost in answering confidence within 12 weeks.
6. Unique Learning Management System (LMS) – Your one-stop solution to shorten your revision time towards an 'A' (Check out the video)! App-based learning on the LMS is also available on the go via mobile!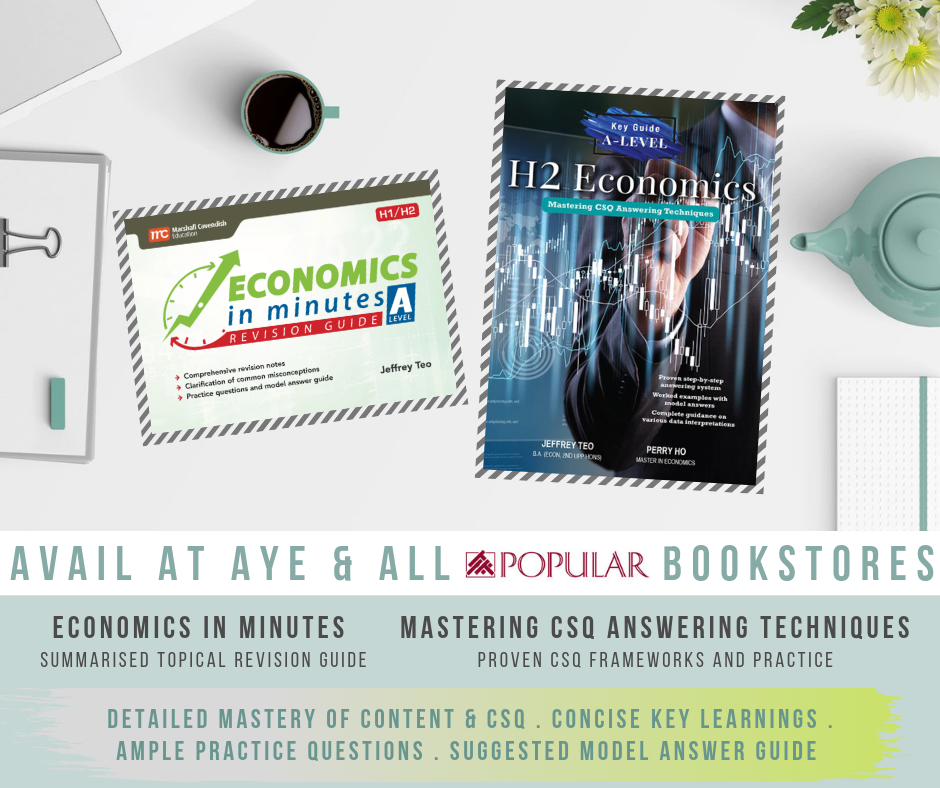 7. Secure an 'A' from one of the top Econs guidebook authors in Singapore – Mr Jeffrey Teo.
8. Maximum 8 per online class – We do not practice mass lecturing via online.
9. Our lifelong commitment to your success in Econs – if you do not promote even after JC1 Economics Tuition with us, you will repeat your 1st year with us for free.
---
Testimonials from some of our past J1 ACERs who have gone through our JC1 Economics Tuition Programme:
Can't find a better tutor
Phang Vi Shen
Parent
Structure my essays well
Gladys Koh
NJC
Tremendous improvements
Wee Teck
TJC
If you are keen to secure your 'A' in our JC1 Economics Tuition, backed with our ironclad promise for results, here are the 3 simple steps to follow:
Step 1 - Read through our program details as above.
Step 2 – Submit your ACE application form below.
Step 3 – Our enrolment team will reach out to you within 24 hours upon proper application to arrange for registration.

 

 
However, in full view of transparency, our JC1 Economics Tuition programme is not suitable for everyone. We are not able to help if you fall under any of these two categories:
Applicants who cannot take extra practices - Our programme strongly emphasizes on extra practices. However, if you clearly know that you lack practice and application and yet still cannot squeeze time out to practice more to improve your own grades, please don't apply.
Applicants who cannot explain their learning difficulties to us  

- To help you better, we may ask you to elaborate your learning difficulties when we get in touch. If you can't explain to us your learning challenges and difficulties, we can't help you.
So are you ready to grab your 'A' together with us? 🙂