Congratulations J1s! You have successfully entered JC (hopefully your ideal one). Now that orientation is over, you have reached the next phase of your induction. Which subject should I choose? Should I even choose Economics? Let's assume you have decided to take Econs. But should I pick H1 or H2 Econs? What is the main difference between them?
What is the H1 Economics Syllabus?
Note: Topics 1.1, 2.1 and 2.2 are covered in the first year (JC1). 3.1 is also briefly covered in the first year. The second year (JC2) covers mainly 3.1 and 3.2.
What is the H2 Economics Syllabus?
Note: Themes 1 & 2 are covered in the first year (JC1). The second year (JC2) covers mainly theme 3.
What is the Difference Between H1 and H2 Econs?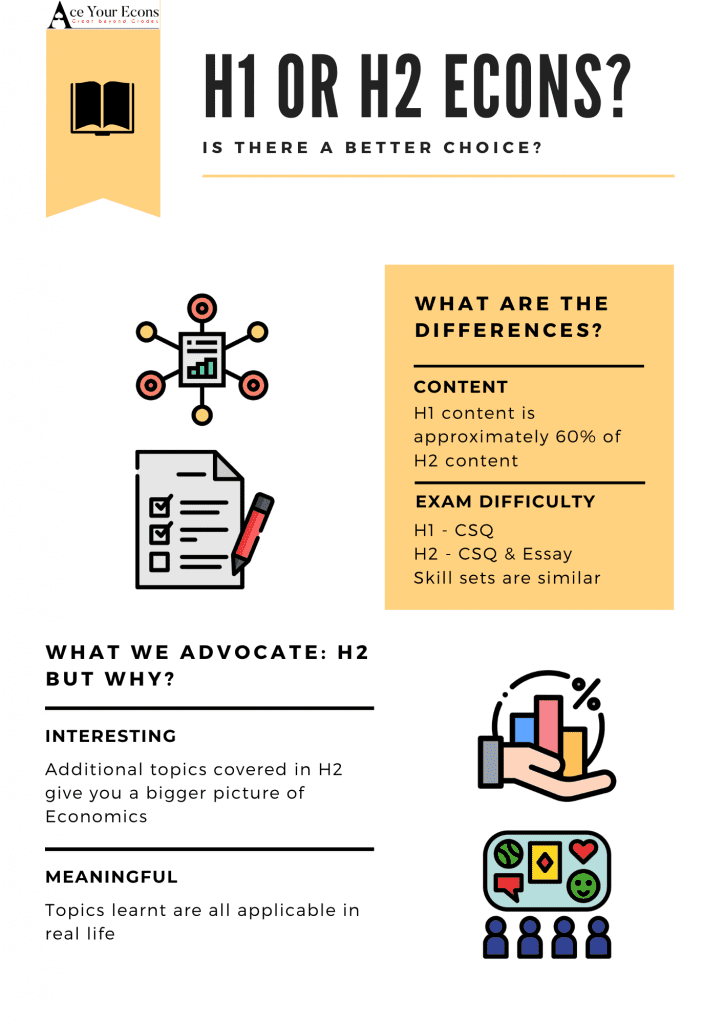 Content
Evidently, H1 has much less content than H2. To exemplify, Market Structure, a topic where students get to learn the behaviour of firms (such as price wars between SingTel and Stahub), is not in the H1 Syllabus. 
A rough estimation of the difference in content is that H1 is approximately 60% of that of H2.
Difficulty
H1 and H2 Econs have different emphases. H1 Econs mainly focus on case studies while H2 Econs mainly focus on essays (60% of total marks). That being said, both H1 and H2 Econs have case studies and the exam difficulties are the same. The skill sets required for both levels are equally rigorous.
While there is a difference in difficulty level, it does not mean that taking H1 is all that bad! This difference has led to a generation of some misconceptions about H1 Econs, which we have debunked over here!
(Latest Update!) H1 Subjects in 2026
MOE announced in 2023 that the weightage of H1 content subjects (including H1 Econs) will change in 2026.
Infographic: Anam Musta'ein
Under this new system that starts in 2026,
H1 content subjects will still account for 10 points

However, it will only be included if it improves the candidate's score for university admissions

For students who take four H2 subjects, their lowest-scoring subject is considered an H1 subject
With these changes, it means if you perform poorly in any of your H2 subjects, scoring well for your H1 subject, such as H1 Econs, will act as a safety net and help to boost your university admission score.
In all honesty, I would still advocate H2 Econs. But why?
Interesting
Topics covered in H2 and not in H1 will ultimately give you a more coherent picture of Economics in real life! For example, you get to understand Econs in the eyes of a consumer, firm, and government.
Meaningful
Economics is a meaningful social science that can be used to explain many issues in the world. Almost every policy in Singapore is governed by Economics! Wouldn't it be better if you could understand better how policies are formed in Singapore with H2 Econs (more content)?
In fact, this is the only subject that is still applicable in your adulthood no matter what job you pursue i.e you can use Economics to explain your house mortgages, your rising bus fare etc.
So, have you made your choice? Will it be H1 or H2 Econs?
Want to Build Your Confidence In H1/H2 Economics? Enrol in Our A Level Economics Tuition Today!

Get Prepared!
We condition you to ace your A Levels through our weekly timed practices. There will also be a month-end lecture test to condition you properly for the year-end national exams.
Get Confident!
We nurture your confidence and reignite your passion for Econs through our interactive sessions and show you how it is still possible to ace your econs despite your initial setbacks in school.
Get Clarity!
Summarised notes and succinct explanations would allow you to gain clarity and focus without being overwhelmed. All submissions would be graded with detailed feedback given by Mr Teo to strengthen your concepts and foundation.
Frequently Asked Questions
A Level Economics introduces students to economic reasoning and economic analysis. It is a demanding subject which requires individuals to think critically about topics such as economic growth, inflation, and unemployment, as well as local issues and recent economic trends.
Through these various topics, students gain insight into the economic decisions of the government and strategies for economic development. This subject helps develop important skills for those interested in business or finance, equipping them to take on more economic management roles in their future professional careers.
Economics in JC has a steep learning curve as it is a subject not covered in secondary school, unlike math and science. The new requirement of drawing diagrams makes it a lot harder for students to know when and how to use a diagram in their explanation.
Although most students find economics concepts easy to understand, they also often find it hard to apply concepts in exam situations, resulting in their answers being unrefined or 'not answering the question'.