Dear J2 students,
You have just received your Promos result and you've got an  'E' / 'S' grade alongside subpar results from your other subjects. Although you are promoted to J2, you clearly know that you have barely scraped through your first year and your foundation in year 1 is extremely weak. And truth to be told, the result is a mirror reflection of yourself. Here are the top 7 interpretations of your result:
You've been too involved in your CCA commitments and simply have no time to revise your lecture notes;
You've been sub-consciously neglecting your revision for Econs (especially if you are doing H1) as it is not your strength as compared to subjects like Maths. You've even promised yourself to revise intensively during the June Holidays but you keep procrastinating;
You dread looking through your lecture notes which are as thick as a dictionary and they never fail to drive you to sleep;
You've tried hard before to revise and even tried to memorise model essays;
Your school's Econs tutor is clearly dreadful in his/her teaching and you've given up all hopes trying to schedule any personal consultation with him/her.  
You often misplan your essays and when you realise you are writing out of point, you trash the existing one, resulting in very little time to complete.
You are perfectly strong in content and have no problems understanding the concepts covered in school. However whenever it comes to exams, you "somehow" misinterpret the question or don't really know what the exact answering requirements, resulting in long thinking & inability to finish your exams.
Eventually, all these resulted in you having to drop a subject to a H1. After consideration, you have decided to drop Econs to a H1 as it is the most unfamiliar subject to you.
On the other hand, your cut-off point for O Levels might only be sufficient enough to allow you to take 3H2s and 1H1. Therefore, you have decieded make Econs the sacrificial lamb of being the H1 subject since it is a new subject. But despite Econs being your H1, you still did poorly in examinations in J1.
However, considering that Econs has now become a H1, does that mean you should neglect it? We don't want to see students go into a deep spiral of worsening Econs grades (as well as your other subjects).
So what happens if you flop your A level Econs exams?
1. Say goodbye to any remaining hopes of entering local university and your dream course

Competition into local universities is only getting tougher, with Indicative Grade Profiles of the top 4 local universities constantly rising:
Sources: NUS, NTU, SMU, Digital Senior
And why is this so? This is because for every cohort, there is a limited intake and unlike local JCs, this intake is subject to a higher available quota of foreign scholars, meaning you not only have to compete locally with your current 'A' level batch but also have to outwit the brightest foreign minds to secure your course at a local university. Tough luck!
We've coached many Private Candidates who confided in us some of their deepest regrets (for those who do not know, "Private Candidates" are students who did not qualify to enrol into local universities or their ideal courses and had to spend one full year to study for the A Levels themselves).
The #1 top regret they would eagerly like to share with all their juniors is:
Don't underestimate the difficulty of 'A' level Econs and revise early.

'A' level Economics is an application-based subject which requires thorough understanding and constant practice. Most of them tried to "memorise" their way through without understanding as a last minute shortcut and this ended up costing their Econs grades.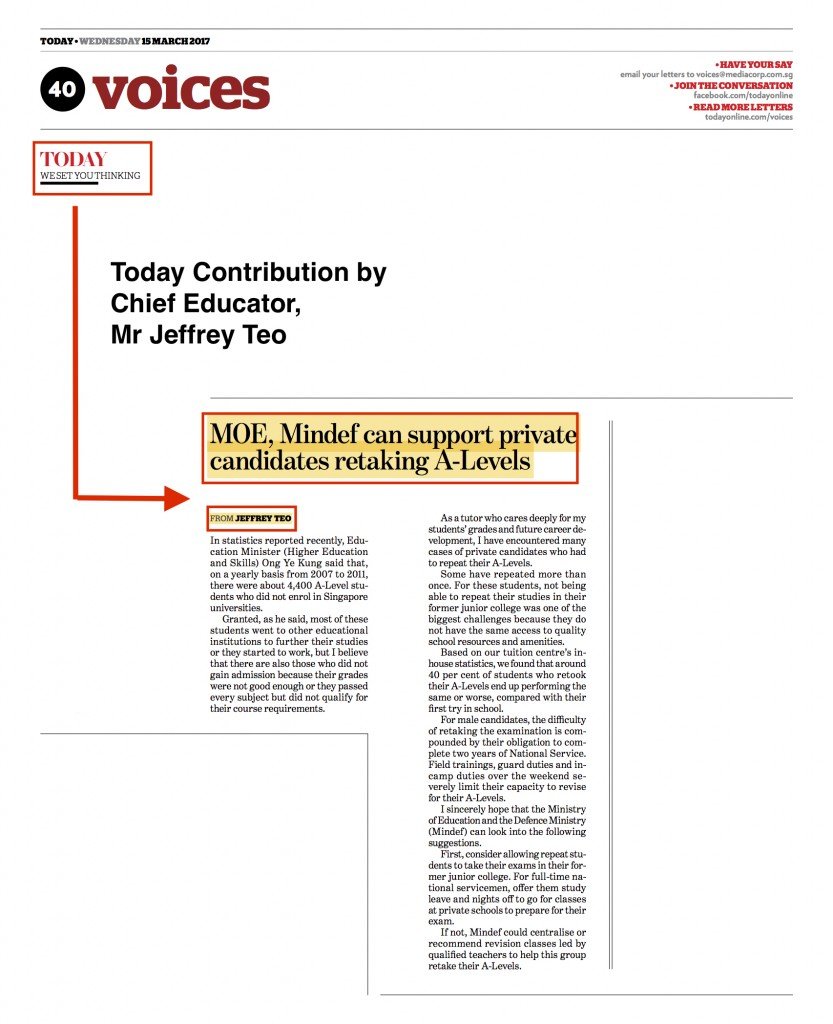 In an article featured on TODAY written by our Chief Educator Mr Jeffrey Teo, we have worked with too many private candidates and statistically, 40% will do worse on their second try.

And the three biggest pains that all of them have to endure with a poor Econs grade are:
1 full year wasted –The fact that they had to repeat privately for 1 full year means that this has cost 1 full year of their youth & 1 full year behind their peers (not to mention the huge sum of additional tuition fees to be incurred as you will no longer have access to support from your ex-JC teachers).
4 months of nightless sleep after A levels – many of them could not sleep properly as they were constantly worried about their results while their peers who revised hard really enjoyed their break from graduation and had a peace of mind.
Struggling between National Service & self-revision – While all your army friends are relaxing and chilling in the bunk after a tough field exercise, you clearly do not have this choice (furthermore, the environment in NS is clearly not conducive enough for revision).
According to local Straits Times article:


Local university grads are better sought after, with better employment prospects and offered higher median salaries as compared foreign university grads. Why is this so? This is because of employers' perception of foreign universities being inferior to local universities and this stigma towards foreign universities is hard to change as long as you are seeking employment in Singapore (thanks & no thanks to our paper chase culture).
Fast forward 4 years down the road (6 years if you are serving NS) – you have sunk $100,000 over a foreign degree due to mediocre 'A' level grades and despite graduating with a decent honours from a foreign university,  your starting pay as compared to your peer's from local university is still steeply discounted at approximately 30%.  
Lastly, your current job status & your starting pay will always be a conversation starter when you have gatherings with your ex – JC / university mates. Enough said!
So what if we tell you it is still possible to start rebuilding your long lost confidence for Econs & score an 'A' in your upcoming A levels?
With our structured JC H1 Economics Tuition Programme, you can look forward to:



1.Learn from one of the most trusted JC Economics Tuition Centre – We are thankful to be trusted and reviewed by many of your A-level seniors/peers. 🙂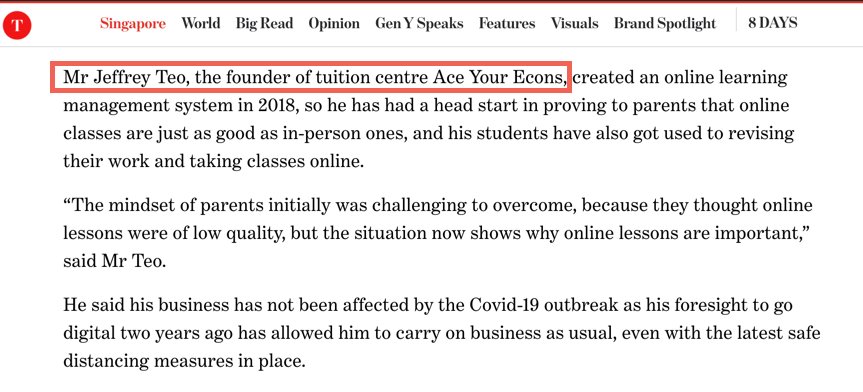 2. Featured Online Tuition Provider – As one of the online pioneers, we have been interviewed & featured in Today.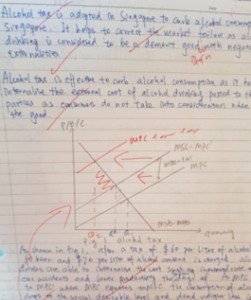 3. Weekly timed trials for CSQs – AYE's JC H1 Economics Tuition is most known for our weekly timed trials with precise marked feedbacks provided. 99% of other school teachers and learning centres avoid giving practices because it is extremely time consuming to mark. However in AYE, your growth is our sole focus and it can only be properly tracked through weekly practices.

4. Gaining exclusive access to a proven '4 Step ACE Framework' for structuring and answering tough H1 Econs case studies. Most students have problems with this and therefore, get their marks pulled down. Thankfully, we've  "cracked the code" in our H1 Economics Tuition programme and pinpointed the exact steps you need to do to score well for case studies.
5. Assured confidence – 96% of AYE's candidates reflected a significant boost in answering confidence within 12 weeks.
6. Unique Learning Management System (LMS) – Your one-stop solution to shorten your revision time towards an 'A' (Check out the video)! App-based learning on the LMS is also available on-the-go via mobile!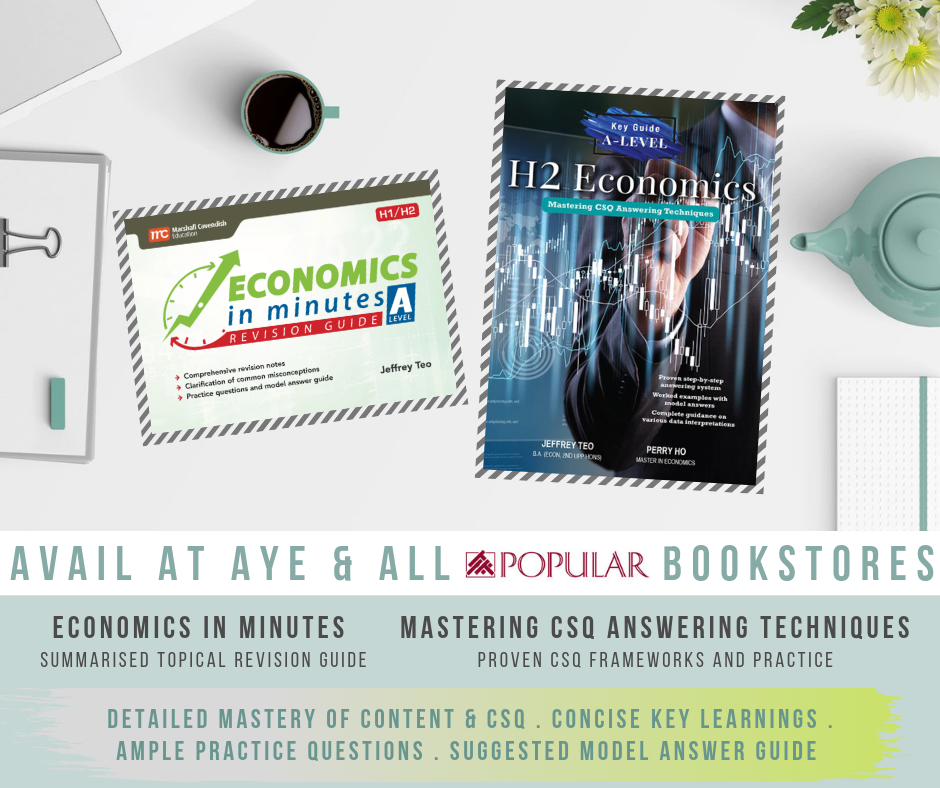 7. Secure

an 'A' from one of the top Econs guidebook authors in Singapore – Mr Jeffrey Teo.
8. Maximum 8 per online class – We do not practice mass lecturing via online
9.

Separate programmes for H1 & H2. We believe that H1 and H2 Econs students have different learning needs and thus these programmes are different. Our H1 Economics Tuition are exclusive to J2s taking this subject!
10

. Our lifelong commitment to your success in Econs – If you do not score an 'A' in your A-levels even after going through our H1 Economics Tuition, you will repeat with us for free. 
---
Testimonials from some of our past ACERs who have gone through our JC H1 Economics Tuition Programme:
Improved by 5 grades in 4 months!
Regine Tan
TJC
Proper structure and answering techniques
Johnathan Ling
JPJC (Formerly known as JJC)
Improved my time management skills
Azza
Private Candidate
If you are keen to boost your confidence in the shortest time period with AYE's proven JC H1 Economics Tuition, here are the 3 simple steps:

Step 1 - Read through our programme details as above.

 
Step 2 – Submit your ACE application form below.

 
Step 3 – Our enrolment team will reach out to you within 24 hours upon proper submission to arrange for registration. 

 

However, in full view of transparency, our JC H1 Economics Tuition programme is not suitable for everyone. We are not able to help if you fall under any of these three categories:
Applicants who cannot take extra practices - Our programme strongly emphasizes on extra practices. However, if you clearly know that you lack practice and application and yet still cannot squeeze time out to practice more to improve your own grades, this is not the right place for you.
Applicants who cannot explain their learning difficulties to us  

- To help you better, we may ask you to elaborate your learning difficulties to us when we get in touch. If you can't explain to us your learning challenges and difficulties, this is not the right place for you.
Applicants who do not have a strong desire for an 'A'

- If you are merely looking to scrap pass your A-levels, this is not the right place for you.
So are you ready to grab your 'A' together with us in your second try? 🙂