Economics Intensive Revision Tuition -
Ace Your A Level Econs
in 48 hours Now.
The recent disappointing grade in your MYA / Prelims makes you feel UNCERTAIN on how you will fare for your Econs in A levels.
The exam results have also destroyed your confidence for Econs. Your LACK OF CONFIDENCE causes you to panic and feel helpless whenever you are attempting an Econs paper.
You are extremely overwhelmed with your school A level preparation package and you totally don't know where to start from.
Most J2s struggle with these too. You are not alone… 
BUT THERE IS STILL A WAY TO SCORE AN "A" WITHIN 48 HOURS.
AND WE ARE HERE TO PUSH YOU TOWARDS YOUR DREAM COURSE IN UNIVERSITY.
Here's what our fellow parents & Students have to say
'A' for A Levels through Practice and Support
Zara Kimiri
RI
Finally got an 'A' in A Levels
Dana Gan
TJC
'U' to 'A'
Tang Yanfeng
SAJC
Meet your Head coach for Your Economics Intensive Revision Tuition

Mr. Jeffrey Teo is the Head Coach & Founder of Ace Your Econs (AYE), renowned best-selling author of 2 Economics Guidebooks. He has been featured prominently on local media across all major media platforms. Mr. Teo has been lecturing A Levels Economics for over 10 years. He was a Senior Corporate Banker in two foreign banks before starting his own Econs Coaching Centre – Ace Your Econs (AYE). Drawing from his wealth of experience in his previous career, his interactions with the Monetary Authority of Singapore (MAS) has provided him with great insights on how Macroeconomics and Macro Policies are conducted in Singapore. This makes him an attractive and ideal Econs coach due to his previous role as practitioner and current one as a teacher. To date, more than 90% of Mr. Teo's students have experienced a significant boost in confidence for Econs within the first 3 months.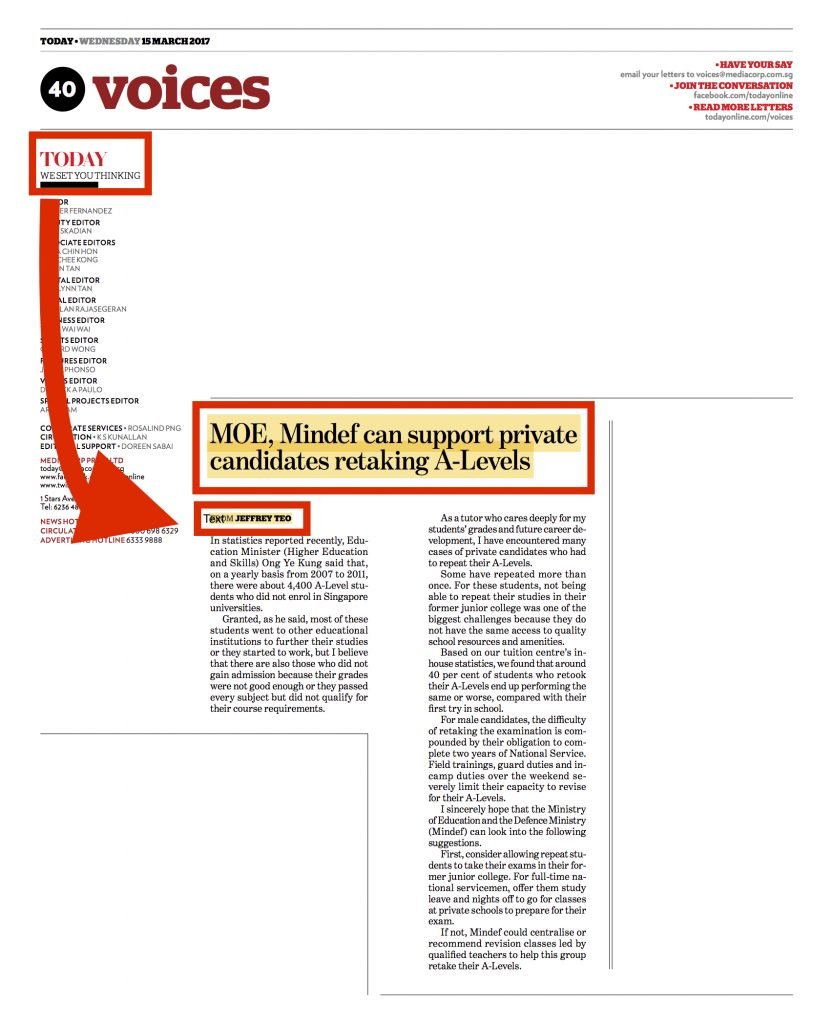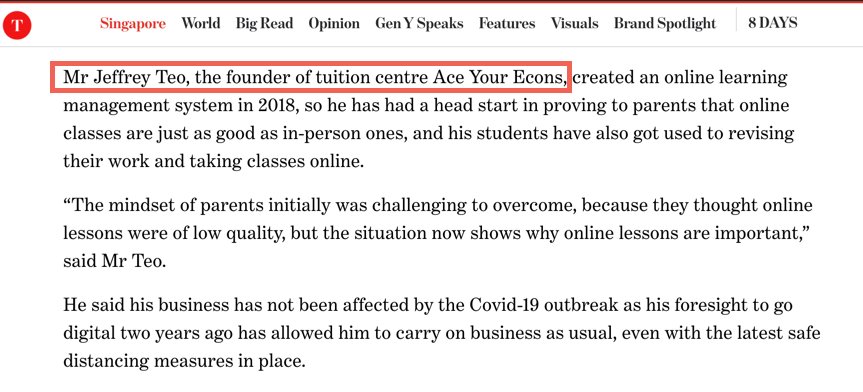 Media Feature on Parent Asia Guide: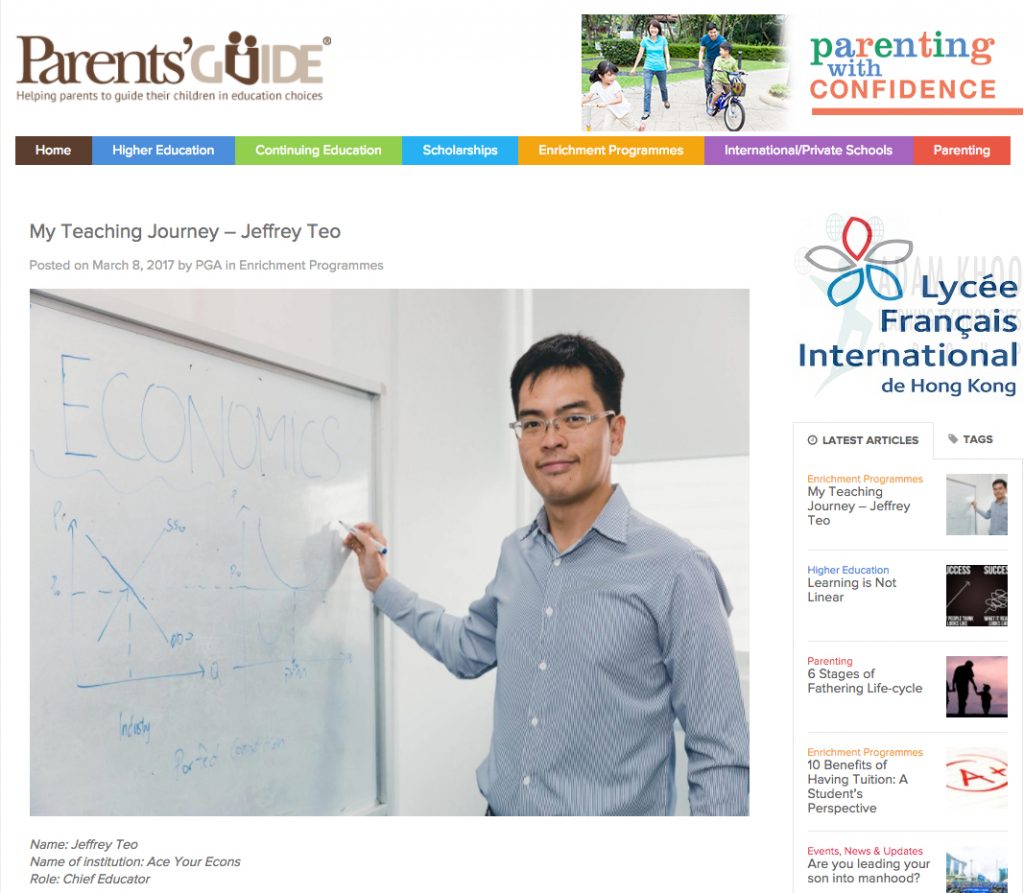 Best selling author of two guidebooks: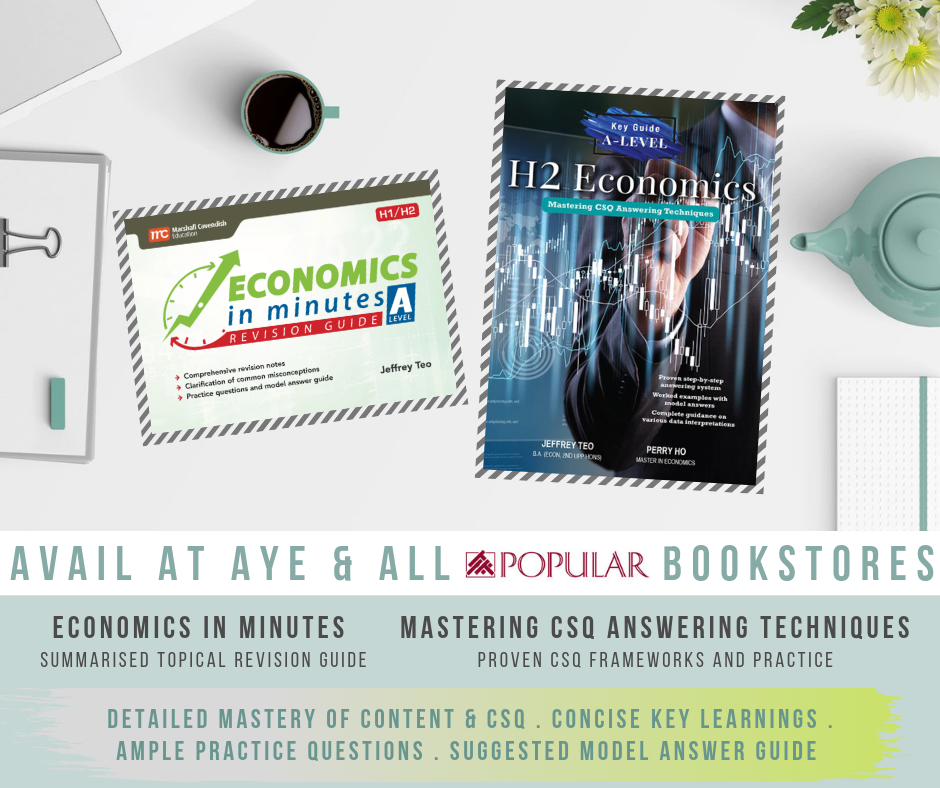 About our Economics Intensive Revision Tuition Schedule

| Online Schedule | Timing |
| --- | --- |
| 1. Wednesday and Fri H2 Group (Online) | |
| | |

Here's what you will be getting from our Economics Intensive Revision Tuition:
U (promos) to A (A Levels) in 1 YEAR!Mr Teo is a patient teacher who truly knows how to summarise the extensive content that the H2 Economics syllabus demands and break it up into bite-sized chunks that are more palatable and easier to understand. He has always been ready to put in the extra hours, be it through online consultations or speedy Whatsapp replies to help me in my work and has even referred me to multiple other practice questions that were able to reinforce the concepts I were having trouble with.Aceyourecons' learning management system is also not something to be overlooked. With Mr Teo's pre-recorded lectures and explanation, I was able to grasp concepts way ahead of the rest of my class. The weekly assignments and the extensive other various mock papers that he gives us access to allowed me to practice any topic that I was struggling with multiple times over until I had it mastered.Overall, my tuition experience here has been highly effective in not only bringing my grades up from a 'U' to an 'A' in my A levels but bringing Economics, a subject that most people are new to, to a level where I can enjoy and appreciate the subject.10/10 would recommend AYE

Pranav Ghosh
07:01 30 Jul 21
I'm currently retaking my A levels in a private academy and a student with Ace your Econs. I'm very thankful as these lessons have given me the flexibility of having online classes which is very convenient. Mr Teo closely monitors each student's progress and regularly checks on each student if they need help. The mentoring session have been very helpful which I believe many other centers neglect to go deep into understanding each student's needs. I've developed an interest in Econs thanks to ace your Econs and I went from the usual E to a B in recent school tests. I will definitely recommend Ace Your Econs to any fellow private candidate that is looking for an Econ tutor.

Jaren Chan
10:16 10 Apr 21
My daugther's poor A-level results in Economics may had hindered her ability to get to her 1st choice of study in university. She opted then to go for a 2nd attempt as a private candidate while still pursuing an undergraduate study. As a Millennial, she took the totally online lectures and tutoring very easily like a duck to water. Furthermore, Mr Jeffrey Teo is very professional, passionate and knows his stuffs well. With his help and dedication as well as 4-months Intensive Package, my daugther managed to improve her grade from D to A in Economics. Thank-you Mr Jeffrey Teo! I will definitely recommend AceYourEcons for JC students requiring tuition for Economics.

juhari halim
03:35 27 Feb 21
1. I'm Elaine , almost adult kids .. :)2. The online classes were versatile, convenient and easily assessable.3. Mr. Jeffrey Teo is a very encouraging tutor. He care for his student not only in their studies but also their well being esp during Covid period.4. I'll recommend Ace Your Econs to my fellow parents.

Elaine Shu
15:51 26 Feb 21
Both my girls (in different years) had Econs tuition with Jeffrey Teo. He is a very dedicated teacher, always ensuring that the girls understand the concept. He follows up with them frequently and it really has the 1-1 feel even though it's a group class. He gives them mock tests, and follows up on where they did well/did not do well.....With Online tuition (because of COVID-19) I think there's even more effort put in by Jeffrey. My daughter can select the timings of the 1-1 to fit in with her other schedules. My daughter can wake up 10min before the online class is scheduled to begin :). Prior to COVID-19 she has to be up 45min before as we will need to reach the centre in time for class...With Jeffrey's dedication, both my girls got to boost their results from D (Despair) to an A (Awesome) for their A Levels! Thank u, Jeffrey!

Samantha Law
05:35 20 Feb 21
My son's mid year result for Economics was affected by the circuit breaker as he is not use online lecture. He took an intensive package from AceYourEcons for about 4 months and managed to get A for his Economics. The tutor is very professional and passionate about his work. I strongly recommend his service if your child need tuition for Economics.

chinaik low
00:58 20 Feb 21
I'm Ryan from HCI and I was a student here. I appreciate AYE's help in my JC Economics as they held effective online lessons where Mr Teo constantly tried to engage us with fun activities like Kahoot quizzes or showing us his pet Corgi whenever we looked sleepy or zoned out, something few teachers would take the effort to do. Besides caring greatly for his students, Mr Teo has high expectations from us to push ourselves in and out of tuition, and his confidence in our ability to do so has helped me to put in effort in my studies. I would recommend AYE to others searching for Economics tuition.

Jeffrey is a rare type of passionate tutor who specializes in JC Econs, always going the extra mile for this students, those students whom i've referred to him gave very good feedback about his online sessions & consultations! =)

Lite Tutors
04:00 26 Dec 20
I got to know of AYE through my family member who had previously attended the tuition class. I particularly like how the number of students online are limited and hence it feels more personalised. Compared to other tuition centres, AYE provides one-to-one mentoring sessions, where Mr Teo will help me with a study plan with specific learning objectives which helps me greatly in me econs since it is tailored to my personal goals. After attending classes at AYE, I have greater confidence before going for examinations and I've also gotten better at structuring my essays. I'd really like to thank Mr Teo for the encouragement given which has made learning economics more enjoyable.

Shannon Odermatt
15:00 22 Nov 20
I am Inez Ang from SAJC currently in J1 level. I heard about AYE's online class from a family friend, and I find it very engaging despite it being a online class. Mr Teo makes great effort to engage each and everyone in his small class size and I feel quality is not compromised in anyway despite being an online class. I benefit greatly from his many practices, feedback and 1-1 consultations. I have been doing well in school as a result from all of AYE's practices and lessons and got an A for my promos. Special thanks to Mr Teo for always looking out for me and being encouraging.☺️

I'm a JC2 student from Hwa Chong and I really like how convenient the online classes were this year as it can be troublesome to leave the house especially on rainy days and it saves a lot of travel time. When switching to online lessons the quality of lessons also did not fall. I particularly find that the extra consultations and mentoring sessions really sets him apart as it shows he cares not just for the grades but for the student and the consultations really help to ensure further consolidation of knowledge and clarification of questions.Mr Teo is a very caring and energetic tutor who always goes the extra mile for his students and is very understanding, as long as he is informed before hand he will do as much to accommodate any requests. He never fails to bring an energy to his lessons which help to make learning that much easier. Thank you Mr Teo for helping me jump from a U grade to a C grade!

Bryan Hong
11:11 11 Oct 20
i'm from ejc and am currently j1. i joined aceyourecons around may of 2020 because i was struggling with economic concepts and was failing all the tests. my mum decided to find an online tuition for me especially since it was during circuit breaker and she wanted to find a centre experienced with online teaching. through researching, she found aceyourecons and we were quite impressed by the website thus we decided to try it out. mr teo will try his best to help you catch up and understand concepts even if you join later in the year. some elements of his classes that i enjoy are the kahoot games because it is engaging and helps me think quickly on the spot. i also like the learning portal (LMS) and the convenience in submitting my scripts for mr teo to mark and return. after joining aceyourecons for about 1.5months i managed to improve to a C grade in my june common test.i will recommend mr teo's classes because it can really help you if you are struggling to understand econs. he also does a lot of timed practices and provides additional materials. every week, he also will mark your scripts if you submit it.

Tinker Bell
05:08 08 Sep 20
I am a jc2 student from Hwa Chong, I really like that Mr Two's classes are open and interactive! Even for online classes, he engages us and always encourages us to discuss various perspectives in econs. The constant weekly practices have allowed me to consolidate my learnings every week and has definitely made my revision easier as there is little back load! Thank you Mr Teo for being a caring and good teacher, helping me achieve B in my block tests!

My initial beliefs on the online classes was that it was going to be ineffective, not engaging and not able to motivate me hard enough when we go online. However, the convenience of the online portal makes it easy to consolidate past scripts and answer schemes, along with tutorial videos to help if you don't understand what the qn wants for the homework. Mr Teo has also organised monthly mentoring sessions online to find out my challenges and how to cope with it, which really help pushed me harder to overcome these challenges and achieve good grades. Thank you Mr Teo for your guidance

Hao Wern Tan
14:30 17 Aug 20
I've been with AYE since the start of JC1 last year. I have never failed Econs and my grades are constantly improving :)The transition from physical to online classes was very smooth and lessons were not disrupted. Since the materials are all easily accessible on the LMS, I can even refer to past lessons, or read ahead if I want to.Online classes are convenient as I can save on travelling time. The quality of interaction has not suffered as the online classes are still as interactive as physical classes. Mr Teo will call on us to answer questions, and we can ask him questions anytime.Mr Teo is clear in his explanations and will leave no questions unanswered. His experience in using online materials has been invaluable especially in the current climate.I will definitely recommend attending his classes. Your grades will thank you.

Constance Lau
09:25 12 Aug 20
I am Jason Lee from Love To Learn Education Hub, an expert in Secondary online math tuition.I have known Jeffrey Teo for more than 3 years, and have seen his business Ace Your Econs grow from strength to strength.Jeffrey has a proven system that helps many students achieve their desired results. What impresses me constantly is how thorough he executed his program. He is strict, yet his students love him and willingly put in their best effort.I'd recommend Jeffrey to any JC students who struggle with Econs.

Kiat Seng, Jason Lee
12:05 30 Jul 20
I chanced upon Jeffery's online sharing session and his follow up work was amazing and the sharing session was very good. very straight to the point, focused on a singular idea/concept and most importantly he urges his attendees to take action! Which is the most important step of any learning, If you learnt 1000 things but act on none, it is the same as not learning anything at all. However if you learnt 1 thing and act on it a 1000 times I'm sure you will be a Master and an expert. I am confident that Jeffery will be able to deliver similar results for your child in his academic journey.

I am a student currently attending lessons at AYE. I got to know about AYE through a recommendation from another tutor, and i was part of the class that experienced the transition from onsite classes to online classes. One thing i can say is that AYE's online classes are more effective than other centres due to the Learning Management system, which provides easy access to questions to allow us to hone our skills. It also allows us to submit our work online to gain feedback, a feature which most centres do not possess. I feel that onsite and online classes are largely similar in that the interaction between the teachers and students still maintain a similar level. The way the lessons are conducted are also similar where students are given time to practice questions and later gather feedback. I would highly recommend attending AYE's lessons, no matter online or onsite, as a high quality of teaching is maintained.

Have been coming to AYE since the start of 2020, and was recommended by a senior in my school who had a very big improvement in economics in 1 year of attending AYE. The online portal AYE uses has been instrumental in facilitating the online classes i am attending, as resources are accessible, homework submission is not compromised and the video recordings allow me to catch up on my work easily. My CSQ has seen an improvement, as Mr Teo has helped me be able to squeeze out as many marks as possible from the question, and i look forward to seeing the same improvement in my essay questions in the time to come. Will definitely recommend AYE to anyone looking for economics tuition.

bertrand yang
13:40 20 Jul 20
I found out about AYE from my brother as he was previously from this tuition centre as well. AYE's online classes are different from other online classes in a sense that since there is a smaller class size, there is better engagement and thus it is easier to ask questions during class. Mr Teo is also active in asking his students questions to keep them engaged in the class. The online classes are comparable to onsite classes as Mr Teo uses whiteboard and marker functions to illustrate key concepts and draw diagrams. Furthermore, it is also easy to access lesson materials on the AYE LMS portal. All these together with the weekly practices has helped me to improve from an S to an A.

I joined this program in my second year of JC. They have an online system known as LMS, where you can find all the lectures, questions and answers in one place, which helps me to be very organized. Their online classes are helpful for introverts who don't face a social barrier during lesson time as they are learning comfortably in their own home. Mr Jeffrey Teo, the econs teacher, is a geniune fellow who really wants to help you get an A for econs!

Youtube Commentator
13:31 15 Jul 20
My child didn't like econs but it was too late to change subject. Initially she got a U during a class test, and it was difficult to look for tuition as we have logistics issues. Luckily we found Mr. Teo and after a long chat with him to understand our child's problem, we decided to register my child for a trial. He even arranged for a short session after the trial to give us an idea on what weakness my child has and how he can help to bridge the gap. We signed up for his program immediately right after the chat. Within a few weeks, I can see my child regaining confidence and some interest in the subject. Mr. Jeffrey also organised mock test to ensure his student is well prepared in an exam setting. She just got her latest test back and she has improved from a U to C after about slightly over a month into the program!! Particularly appealing to us is that this is all done online, as we find that a lot of time and energy is expended if on travel for tuition. we had worried about how an online class can be as effective as onsite, but this has proven to be unfounded.

I came across AYE's online classes when I was googling suitable economics tuition for private candidates. AYE's online classes is convenient as I can save on travel time and spend more time on other things. It is also easier for me to ask questions during classes and refer to the lesson materials on the LMS portal. The quality of AYE online class is comparable to face-to-face class as Mr Teo is able to deliver the lessons clearly by drawing diagrams or annotating on the digital whiteboard and lesson materials. I would definitely recommend students to take up AYE's online classes. Mr Teo's clear teaching has allowed me to pick up the relevant concepts, frameworks and answering techniques quickly.

By the middle of JC Year 2, my daughter was still barely coping with understanding and applying Economics concepts. After stepping down from her CCA, we chanced upon a holiday programme on Economics at AYE and went to find out more. What I liked was that Mr Teo took time to attend to us in between his packed schedule to personally find out where were my daughter's weaknesses and gaps in the subject. That's where she also decided to attend Mr Teo's weekly lessons over and above the holiday programme. After a few lessons, I could tell that Mr Teo's teaching pedagogy suited her and she had regained confidence in the subject even though she was still struggling with Class Test and Prelim Exam in the subject with poor grades. Access to online resources allowed my Daughter to learn outside the weekly lessons during the time leading up to her A Level exams. I am thankful for AYE and Mr Teo for helping in no small way and enabling my Daughter fo score a Distinction for Economics in her A Level Exam. Thank you Mr Teo.

AceYourEcons provides ample resources, more than most if not all JCs. The one-on-one online consultations and flexibility in tuition make up classes also cater to those with irregular schedules. The weekly timed practices and homework target effective answering techniques and time management skills critical in, well, acing econs. One group of students I would highly recommend this centre to is unguided private candidates who are looking for a structured academic system.

Yi Juan Chan
06:24 27 Oct 19
Had problems understanding econs concepts before but the online tutorials helped me to understand the topic better

Levona Lee
09:24 23 Jun 18
My challenge has always been content mastery + essay skills. AYE is well equipped and prepared to handle this, with digestible notes and a plethora of online resources. Also, Mr Teo frequently conducts ZOOM sessions to help us clarify any doubts and work on question analysis. Furthermore, the online platform makes the whole process of learning convenient, and AYE even provides online consultations which are always useful for any miscellaneous questions. Would recommend.

1. Most Trusted JC Econs Brand
Learn from the
most trusted
JC Economics tuition centre in Singapore.
2. Guaranteed 'A' or retake with us for free.
We are 100% committed to your success and we will not stop short from an 'A'.
3. Most Demanding and Rigorous Economics Intensive Revision Tuition
You will be pushed extremely hard to score an A within 48 hours in our Economics Intensive Revision programme by Mr Jeffrey Teo with intensive hands-on practices and guided feedbacks every week. You have our word that this is the most demanding yet fulfilling tuition centre you will ever find.
4. Most Structured Approach - 'ACE' Framework
You will realise his/her fullest potential under our proprietary ACE system specifically designed to tackle and structure essays! This system is steered towards helping J2 Econs students nurture their application and higher order thinking skills.
5. Most Organised Digital Solution
Instant access to a one-stop digital solution containing interactive video teachings, as well as ten years' worth of essay and CSQ practices. We also provide in-depth video analyses for those questions to prepare you for the A levels within 48 hours.
6. Most Student Centric Tuition Centre
Say no more to ineffective mass lecture-style classes. In this online class, to ensure you get the maximum attention, we limit our intake to 8 students (last H2 class of the year).
However in full view of transparency, our Economics Intensive Revision is not suitable for these 3 profiles of students:

Your investment Choice today:
AYE
Intensive Group Programme
For J2 students

who want

extra practice and assurance




and are looking to

stay ahead of




the

bell curve within 48 hours
$
900

Every 4 lessons (3hrs each) includes:
Bi-Weekly intensive group classes, practices & homework to catch up with your upcoming A levels.

Access to our exclusive Learning Management System with a full library of recorded video lectures, self practices and video analysis of essays and case studies














AYE Plus
Intensive Group Programme
For committed J2s who suffer significant backlog of catchup work and requires personal hand-holding by
Mr Teo within 48 hours
$
7,865

One time investment includes:
Bi-Weekly intensive group classes, practices & homework to catch up with your upcoming A levels.

Access to our exclusive Learning Management System with a full library of recorded video lectures, self practices and video analysis of essays and case studies

Unlimited flexi 1 to 1 consults

with Mr Jeffrey Teo to personally "hand-hold" you through this crucial period of towards your A Levels. Any lessons missed previously would be made up for free on 1 to 1 basis. (U.P: $6,000)

Retake for free if you do not score an 'A' for A Levels (U.P: $7,865)


Intensive Flexi
1 to 1 Programme
For busy J2 students
who require flexibility & personal attention of
Mr Teo
$
1,440

Every 4 lessons includes:
Weekly flexi intensive classes, practices & homework to catch up with your upcoming A levels.

Access to our exclusive Learning Management System with a full library of recorded video lectures, self practices and video analysis of essays and case studies











* Additional 4 lessons deposit is required for AYE intensive Group Programme & Intensive Flexi 1 to 1.
*All fees exclude an annual course material fee of $50 and a one time registration fee of $50.
Are you ready to be pushed beyond your limits to score an 'A' within 48 hours?
Will H1 and H2 students be mixed together?
A: We do not encourage mixing H1 and H2 students due to the difference in exam requirements. H1 students - please enquire the 1-1 flexi directly.
Will there be face to face classes?
All classes will be conducted online.
What is the difference between flexi 1-1 Classes & Group Programme?
Flexi 1-1 classes are highly customised & intensive sessions for students who require the undivided attention of our lead economics tutor, Mr Jeffrey Teo. Students under the AYE Plus group programme will also enjoy unlimited flexi 1-1 sessions.
How is your online class different from the rest of centres?
We do not practise having concurrent online and physical classes as we believe it dilutes the learning experience for those attending the class online. Our online only approach ensures that the 8 participants get maximum attention. To ensure that our students learn from their mistakes, we constantly recap the content and pride ourselves in our intensity of the sessions. Every class would contain at least three timed practice, alongside a mandatory homework submission.
How do I submit my timed practices and homework even if I'm attending an online class?
Everything from video lectures and worksheets can be obtained & submitted digitally through our one-stop learning management system.
Are there presentations in the group class?
No presentations are required on your side. However, Mr Teo will pose questions to promote in-class interaction. 
Will there be make-up classes if I miss class due to poor health?
Every online class will be recorded and uploaded onto our learning management system for your review. For students under the AYE plus group programme, you may also request for a complimentary 1-1 make up lesson for lessons missed.
Can I arrange for a trial class?
Yes, a paid trial is available upon request, subjected to availability.